Hubbell is making waves in the marine devices industry with Hubbell Wiring Device-Kellems marine market products.
We are dedicated to developing and delivering marine products so that boat builders and boat captains can feel at ease while on the water. Most of our marine devices are made in the United States and are UL listed, CSA approved, and CE certified.
Cable Sets & Devices
Hubbell cable sets have an exclusive cooper crimp barrel termination for protection against overheating and burnout. With the same type of copper crimps used by power companies, these marine cables are safer and stronger with tighter connections, better conductivity, and longer life. Hubbell cable sets are designed with encased solid PVC material so that they are waterproof and durable as well.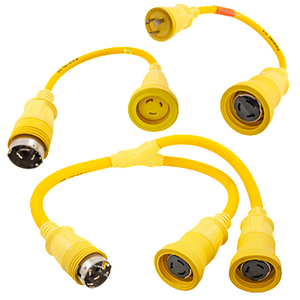 Adapters
Hubbell adapters help boaters solve any issues with boat wiring systems and marine electrical connectors. Having only one electrical system aboard can pose a problem, but Hubbell adapters provide a different electrical system that can correct many electrical mismatches. Hubbell offers both Molded Adapters and Angled Box Adapters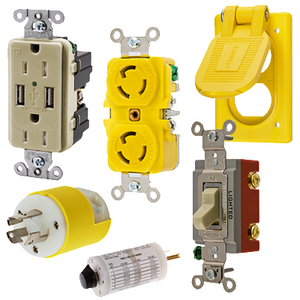 GFCIs, USB Chargers, Receptacles, and Switches
Our receptacles and switches are high performing both in functionality and in style. They contain high-impact nylon faces to resist breakage, chipping, and cracking. These receptacles comply with ABYC standards with a locking fork terminal, and they come in four colors with a smooth, high-gloss finish.
Visit our website to see the newest products and additions for your next day on the water: https://www.hubbell.com/wiringdevice-kellems/en/hubbell-marine