Hubbell Wiring Device-Kellems is excited to announce that two of its innovative solutions – the Combination Wireless Wall-Mount Charger/USB Outlet in the Wiring Devices category and inSIGHT Motor Disconnects in the Power Distribution Equipment category – have been named 2020 Category Winners in EC&M magazine's Product of the Year Competition, chosen from more than 100 entries.
Judged by a team of electrical professionals, the Product of the Year Competition was established in 2001 to recognize excellence in new product development within the electrical industry.
Voting results will determine Platinum, Gold, and Silver Product of the Year award winners.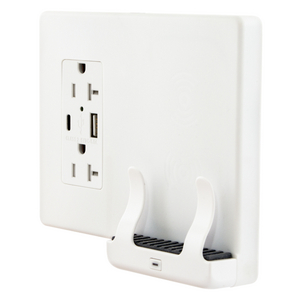 Hubbell's Combination Wireless Wall-Mount Charger and USB Outlet is Qi Certified and UL Listed for safe, effective charging. To offer flexibility and accommodate different charging needs, the device combines Type A and Type C ports, power, and wireless induction – simply slide a phone into the flexible holder. It provides 7.5W of wireless charging, 5A of USB power, and 15A of 120V electrical current, along with a tamper-resistant receptacle (requiring no extra effort to insert a plug).
Hubbell's inSIGHT Motor Disconnects incorporate six LEDs into the enclosure cover to provide feedback about the switch's electrical status for improved safety, convenience, and decision-making. Users can also quickly confirm make/break on all phases. Available in 30A, 60A, and 100A, the solution is offered with non-metallic, stainless steel square, and slope-top enclosures. Replacement covers are also available to update existing installations. In the "off" position, the high-visibility red handle complies with OSHA lockout/tagout requirements. In the "on" position, the cover cannot be opened.
"We're thrilled to be recognized by EC&M magazine this year," says John Carroll, vice president marketing for Hubbell Wiring Device-Kellems. "Both of these products include innovative features that provide safety, convenience and what end-user customers are requesting."